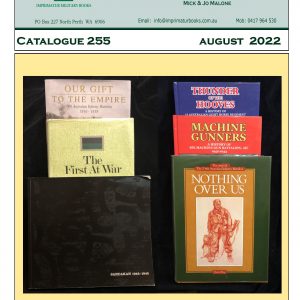 Winter Catalogue #255
Posted On Aug 10, 2022 | Aviation,Espionage,Military Biography,Military General,Naval,Special Forces and Airborne,The Great War 1914-1918,Vietnam,World War 2 1939 - 1945 | No Comments
Welcome to Catalogue 255, August 2022 in the depths of winter here in WA. So much for being dry as a chip over here and hot. It's rained continuously for the best part of 10 days and cold. As I sit here in the late night silence writing, my heart bleeds for those poor souls sleeping rough around the city. The agencies such as the Sally's and Vincent de Paul and many others, can't do enough for them and unbelievably, there are many out there who shun the help offered. As for the rain, I'm not complaining given the dire straits Queensland and NSW have had with severe floods. We all wish we had a few more dams to catch it all. Who'd be a politician juggling the various competing demands for the use of a limited supply of funds.
And on top of that it's the continuous battle with the 'extreme nay sayers' who are so entrenched in their particular ideologies that no one else's opinions matter. And now, they are gaining strength and will soon be in a dictatorial position. That's what democracy brings us which is better than the alternative. I also spare a thought for BEN ROBERTS-SMITH, VC, MG, SASR who has been under the cosh by various news outlets, all before he can sit before a judge. The way they've dragged his name through the sewer is quite disgraceful. What happened to the pillar of our law 'innocent until proven guilty'? There are a lot of people out there who should be ashamed of themselves. Anyway, off the soap box! This is a catalogue of around 255 titles of high quality books, a lot of which are first timers but as usual, many are one-offs.
And as usual, it is dedicated to serving and ex servicemen and women who may not be traveling too well especially old mate TRUCK SAMS who is banged up in a Perth hospital after having an episode in Thailand. I hope to get to see him when they say I can. Keep in contact with your mates and keep each other alive. I get many calls here on a daily basis and they do me good and I know it does them good.
Vaya con Dios. M & J