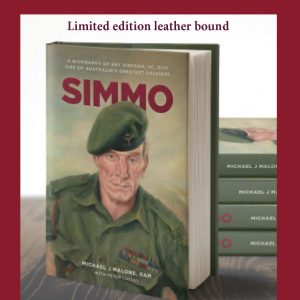 SIMMO – Limited Edition Leather Bound
Posted On Jun 17, 2020 | Military General,SIMMO,Special Forces and Airborne,Vietnam | No Comments
We are considering printing a Collector's Edition of SIMMO: A Biography of Ray Simpson, VC, DCM; One of Australia's greatest soldiers by Michael J Malone OAM with Peter Lutley. This special edition will retail for $150 plus postage.
The limited edition of 50 copies of SIMMO, leather bound, gold foiled, numbered and signed. It is a must-have for the serious collector of military history, especially Vietnam, Victoria Cross and Special Forces aficionados.
Number 1 of 50 will be donated to the SAS Resources Trust to auction as a fund raiser, and 50 of 50 to the Commando Trust.
You can register your interest by completing and returning this form. We will print based on the response.
Expressions of interest will close on 1 July 2020. All sales will be processed when the print is confirmed.
Cheers
Mick