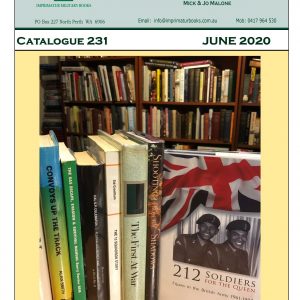 Recovery Catalogue #231
Posted On Jun 10, 2020 | Aviation,Espionage,Military Biography,Military General,Napoleonic,Naval,SIMMO,Special Forces and Airborne,The Great War 1914-1918,Vietnam,World War 2 1939 - 1945 | No Comments
Welcome to Catalogue #231, June 2020. Whilst still in the middle of the pandemic lock-down, thanks to technology we're still able to reach most of our book buyers via email, zoom and the phone. We still send a few hard-copies but far less than when we first started. It was hard copy only and all hands on deck (mothers-inlaw etc) to build the catalogue, get it printed, folded and enveloped, sticking-on of stamps, bundling and posting. Our database was designed by two 17 year old genius students and it is still going strong today with over 11,000 books catalogued.
What the future holds is anybody's guess. Isolation has given us pause for thought about how to enhance Imprimatur Books' place in the world. We've been hearing from many friends and buyers picking up the phone to place orders. There's nothing like a lock-down to reflect on your collection and seek out good books for your isolation. I'm always searching for new additions to the list so if you have a hoard of quality military books for sale, give me a call. My preference is to source books locally, many of which may well have passed through my hands over the years.

As for the pandemic—we're doing a remarkable job here in Australia keeping the death rate down to around 100 as other countries such as the US (100,000) – frightening with the civil unrest being unleashed across the country. Closing our internal borders and locking in an impenetrable state border has been effective in containing the spread—the only cases here are directly linked to people coming in on boats and planes. The tourism industry has been champing at the bit to reopen for local visitors, which is slowly happening as restrictions are relaxed.
Whilst I sit here blissfully unaffected by what is going on at the borders, this list has a few gems for you. A new book, 212 Soldiers for the Queen, is about Fijians recruited into the British army in the 60s. It details those who joined 22 SAS Regiment and saw action over many years winning serious gongs. (such as at Mirbat and Prince's Gate) So, jump in and get one while they last. As usual this list is dedicated to servicemen who may be doing it hard, those first responders and health professionals who've really been under the pump for months now. Mind how you go.

Via con Dios
Mick and Jo