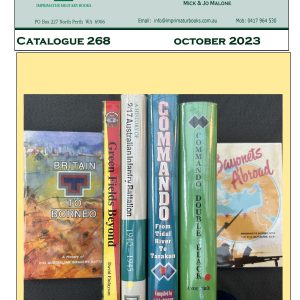 October Catalogue #268
Posted On Oct 08, 2023 | SIMMO,Special Forces and Airborne,The Great War 1914-1918,Vietnam,World War 2 1939 - 1945 | No Comments
Welcome to Catalogue #268, October 2023. This is the season of Kambarang—a transformational time of the year with the acacias, banksias and the earth bursting with the colour of unique wildflowers for which WA is famous. For much of Australia, it's bush fires and flooding plains. Here in WA we are enjoying a mild spring with signs the summer will be a scorcher.
This weekend we see another great sporting event with the Bathurst 1000 motor race following the two great football Grand Finals last weekend. And of course, the Rugby World Cup is underway in France but…we're not going to dwell on that. Bit of luck we'll do better in the Cricket World Cup which is also underway. Politically, it is a period of great division leading up to the Referendum on 14 Oct.
There is a lot of opprobrium and angst being shown on both sides of the debate which is ever thus. Let's hope we can approach a reasonable level of civility because civility is going out the window whichever way the vote goes.
The book world continues on its merry way especially in the field of modern fiction with geniuses like Trent Dalton who seems to have the magic touch. Speaking of writing, I'm in the process of finishing my 2nd volume of my autobiography. Vol 1 is titled 'HAIL MARY, THE CREEKS UP' which details my life from birth to 19 years. (there is little chance this book will get beyond a few copies for family); Vol 2 is titled 'TWO RANKS ON THE ROAD—A Memoir of 35 Years of Army Service'. My erudite son Toby is editing it as we speak and it's looking quite competent and we should have it published by Christmas. Undecided about whether it will be hard-back or card-cover. We'll have to wait till we've done the finer details, financials and so forth. But anyone interested in a copy, let me know and we'll add you to our list. We were eventually able to split the proceeds of the 'SIMMO' hard back between two Veteran's charities they being Perth Legacy and the Veteran's Forge. I hope our small contribution is used to further the aims of both organisations.
As usual, this list is dedicated to service men and women who've served and are not doing so well. And all those who've paid the supreme sacrifice in the wars of preceding decades. We will always remember our heroes. We're with you folks.
Via con Dios
Mick and Jo