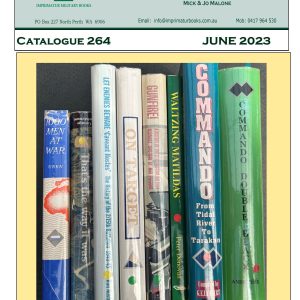 Imprimatur Books Winter Catalogue #264
Posted On Jun 04, 2023 | Aviation,Military Biography,Special Forces and Airborne,The Great War 1914-1918,Vietnam,World War 2 1939 - 1945 | No Comments
At last the rain has come here in the parched West. This is the June catalogue, #264, another list of good books. Talking about good books, Michael Treloar in Adelaide has just published the most extraordinary list of WW1 unit histories and associated ephemera. It was great to see all the 1st editions and the Burridge and Green reprints all together. Michael has led the field in unit histories since the demise of Ken White and D.A. Horne. Alas, many of the great collectors have gone to their rewards and the current generation is not that interested. Let's hope times change by the time I'm ready to hand over the business.
Politics in Australia is a particularly weird beast with a Premier here in WA standing down when he has a massive majority in the House—go figure! "I'm tired" he said. Unfortunately the people of WA elected him to go the distance. Let's hope the replacement Premier has a more long term view. And there are Premiers in other States who seem to hang on absorbing all the crap and vitriol thrown at them. I suppose it's the resilience needed in politics where you're loved by many and despised by many. It's no doubt better than the dictatorships of Russia, China and Turkey. All we can hope for is that the people eventually rise up and throw the thieves and vagabonds out.
Anyway, back to books. A pretty comprehensive list here so fill your boots. As usual, this list is dedicated to servicemen past and present. Remain calm and best wishes to all .
Vaya con Dios
M & J