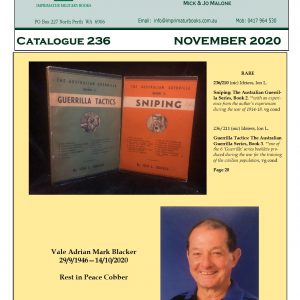 Come November – Catalogue #236 – Imprimatur Books
Posted On Dec 01, 2020 | Aviation,Espionage,Military Biography,Military General,Napoleonic,Naval,SIMMO,Special Forces and Airborne,The Great War 1914-1918,Vietnam,World War 2 1939 - 1945 | No Comments
Welcome to Catalogue 236 November 2020. A burst of summer heat then raining like cats and dogs. It was ever thus. Sunday in lovely Perth is something for which we are ever grateful. The PICA Vernissage last night was most impressive and the red wine flowed. I was most interested in the Caravaggio-like 'Narcissus in Metamorphosis' trio of framed photos by a NZ/NSW artist, Angela Tiatia but the prices are a bit rich for my budget. Nice to look at though.
A week or so back we lost one of our great mates and an SASR legend in ADRIAN BLACKER, aged 74 who succumbed to a nasty illness to do with his heart and lungs. Adrian served two tours in Vietnam with 2 SAS Sqn and was on 'the tractor job' with SAS legends Frank Cashmore and Danny Wright which always gave him legitimacy with the younger soldiers. He and I lived in an old house in Cottesloe in the early 70s and was there when I met the love of my life, Jo. He was a huge influence on the physical development of many young boys and girls and was a total legend at Cottesloe Rugby where we held his funeral. There were over 300 in attendance with the old and bold from Swanbourne and Cottesloe everywhere plus another couple of hundred online from far and wide. Great camaraderie followed in the club and we sent him off in fine style. Vale Adrian, RIP mate.
There are many new books making their debut appearance in this list. The two I'm most delighted with are the Idriess duo that are featured on the cover. The complete 'GUERRILLA SERIES' of 6 books are what I consider as the 'holy grail' of Australian military book collecting. The complete set in mint condition (if they can ever be found) can sell upwards of $8,000 and probably more at auction. As the complete set rarely sees the light of day, building a set from scratch is the only option. And here is your chance to do just that.
Also, we've produced a card-cover version of SIMMO at $32. It's a beautifully produced book. The original hard-back is also available at $60 and we are at last running short of them. Also John Gartner's excellent bio THE FADING LIGHT ($45) is still available as is Robyn McBride's OUT OF THE AMMO BOX ($65). As usual this list is dedicated to recent lost members Adrian Blacker, Kevin Logan, Dick Kluczniak and others still above ground but not travelling well.
Via can Dios
Mick & Jo