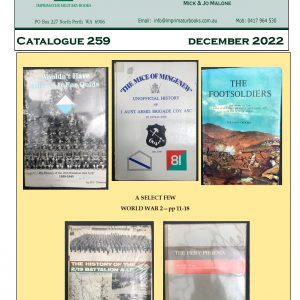 Christmas Edition – 20% Discount Catalogue #259
Posted On Dec 04, 2022 | Special Forces and Airborne,The Great War 1914-1918,Vietnam,World War 2 1939 - 1945 | No Comments
Welcome to our 20% off Christmas list (#259). This catalogue is again limited to four categories—Special Forces, Vietnam, World War 1 and World War 2. We recently purchased a collection of WW2 titles, some of which appear herein, many for the first time. They are quality and very scarce books in the main, and certainly one-offs. I expect there will be considerable interest in them.
We're experiencing warm weather with nary a cloud in the sky. It does not auger well for the summer because as the heat increases, the power bills increase sometimes exponentially. There are a lot of people out there experiencing mortgage and other stresses which the government seems powerless to do anything to alleviate pressures. As a so called 'middle-class' family, we're doing a lot better than scores of others. I just can't imagine being in the shoes of single mothers with kids relying on handouts to survive. We had very little when I was a kid but we had a veggie garden, chooks and a Jersey cow. We weren't going to starve unlike many others. We all need to show kindness and compassion towards others this Christmas and help anyone needing a hand. I make a habit of texting many who I served with to ensure their still vertical.
Old mate Laurie 'Truck' Sams is one who is not at all well at his home in Thailand. We wish you all the best cobber and hope the festive season is good to you.