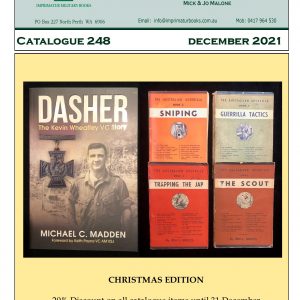 Christmas Discount Catalogue #248
Posted On Dec 04, 2021 | American Civil War 1861-1865,Aviation,Espionage,Human Endeavour,Military Biography,Military General,Napoleonic,Naval,SIMMO,Special Forces and Airborne,The Great War 1914-1918,Vietnam,World War 2 1939 - 1945 | No Comments
Ah, Christmas beckons! And our gift to you is this quite large list offered at LESS 20%. Welcome to Catalogue #248 December 2021. As a lot of the country are in 'lock down', we here in WA, are 'locked in'. The Premier has called this 'an island within and island'. Not sure he's on the completely right track as a lot of businesses associated with the tourist industry are being hammered (to death in some instances). I'm quite happy sitting here in my cave with no urge to go out. I have books, Netflix and a comfortable chair. I tend to limit my forays to the grocery store, chemist and post office. We get our wine and many other things, delivered. So no problems, right? But…this paranoia will have to cease pretty soon before we see our society change permanently. And our chances of seeing our Grand kids in Canada before they're teenagers, is receding rapidly. Luckily we see them on FaceTime once a week. 
This 'lock in' means we will lose the 5th Ashes Cricket Test to some other state. We had the AFL grand final over here so what's the difference? The 5 day Ashes test (IMHO) is more important than a 1 day cross-country basket ball game between two Melbourne teams few people had heard of.
I apologise to anyone who may be offended by this rant but that's what a 'lock in' does to you. Anyway, we've got a quite eclectic selection herein and with a 20% discount making the books most attractive. I don't expect the Idriess set shown on the cover, to last very long at all. They are SO hard to find nowadays that it's hard to imagine them at second hand shops for $2 each (which was the case back a decade or three). The other newly published book is the 'DASHER' biography. His actions in sacrificing his life to stay and die with Butch Swanton is the highest form of valour. He should be everyone's hero. RIP Dasher and Butch.
As usual this list is dedicated to all those gallant soldiers who never returned from battle and those who did but now struggle with their nightmares. We are here for you my friends.
Vaya con Dios  
Mick & Jo