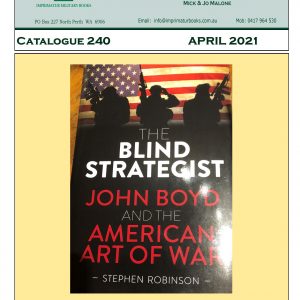 Catalogue #240
Posted On Apr 04, 2021 | Aviation,Espionage,Military Biography,Military General,Napoleonic,Naval,SIMMO,Special Forces and Airborne,The Great War 1914-1918,Vietnam,World War 2 1939 - 1945 | No Comments
Welcome to Catalogue #240, April 2021. The world is still in pretty big strife coping with the COVID 19 pandemic although we are infinitely better off here in Australia compared to many other places. There have been 128,000,000 cases world wide with 2,790,000 dying from it so far. Another 72,500,000 have recovered. Australia's figures are way down from these registering less than 1,000 fatalities. We can consider ourselves very lucky in my view. The 'draconian' closing of borders especially here in WA have kept us safe from a possible rampage whilst fools in both Victoria and Queensland seemed to have taken their collective eyes off the ball. We flew to Tasmania for Christmas and New Year with our daughter. Marvelous trip! What a beautiful place Tassie is! If I ever decide to travel again, Tassie will be on my list.
The poor old Liberal Party here in the West had their arses handed to them in the recent State election. They won enough seats to fill a motorbike and side car! Labor are the ascendant power here but…as we've seen before, hubris sets in and the arrogance that accompanies it will see Labor shown the door probably the next time around. With job keeper now discontinued, there will be a lot of people hurting. Lets hope the multies can invest some of their billions into creating more jobs here. The Federal Labor Opposition are promising to resurrect the Australian car industry if elected next year. Whilst I think this is a good idea, they better study what happened last time. In short, our cars were TOO EXPENSIVE—in essence, and they were crap. German cars are always expensive but of the highest quality. Our VW Tiguan is now 10 years old with another 10 in it. What a good car it's been, I'd like to think it will see me out.
Online book selling has staggered along. Our business has probably fared a lot better than other walk-in places. We're only open by appointment so I don't see too many people here. Leaves me plenty of time to work on my twin biography projects. The first is my own life story 'HAIL MARY, THE CREEK'S UP!' I'm at 80, 000 words and we still haven't gone to Vietnam yet! The final draft could be gigantic—around 200,000 words but once my editors have finished with it, I suspect it will be dramatically reduced. The other book is a biography of 'PETER BADCOE, VC'. I'm up to 24,000 words and there may not be many more given he was KIA in 1967 aged 33. It never ceases to amaze me the bravery and self sacrifice of these VC men. Extraordinary! Badcoe in particular, the 'Galloping Major' who led from the front with a red beret so his men could see him (and, the enemy). There are many books in this list which embody the bravery of soldiers.
As usual, they are usually 'one-offs' so get in fast. A particularly interesting title is 'THE BLIND STRATEGIST (see Late Inclusions). This book is to be launched this month and I will order them based on the interest I receive. Also I have fresh stock of John Gartner's great book 'THE FADING LIGHT'. As usual this catalogue is dedicated to the memory of those servicemen who have given their lives for this great country. Via con Dios. M & J