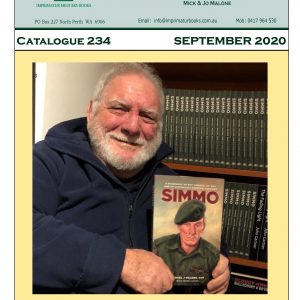 Catalogue 234 September 2020
Posted On Oct 11, 2020 | Aviation,Espionage,Military Biography,Military General,Napoleonic,Naval,SIMMO,Special Forces and Airborne,The Great War 1914-1918,Vietnam,World War 2 1939 - 1945 | No Comments
Welcome to Catalogue 234, September 2020. As we go to print on this 'soon to be spring' day, we celebrate the remarkable Teddy Sheean who is to be awarded the VC for his actions on HMAS ARMIDALE on 1 December 1942. At 18 years old the youngest member of the crew when it was attacked by Japanese planes off Timor. Instead of abandoning ship like he was ordered he made his way aft to the 20mm Oerlikon AA gun, strapped himself in and commenced firing on the attacking planes to protect his ship mates in the water. He managed to down one of the planes and damaged another before the ARMIDALE finally sunk taking Teddy with it. Many of the survivors credited Teddy with saving their lives and he was posthumously awarded the MID. The struggle to get the award upgraded to the VC has been long and hard but finally, in recent weeks, the PM submitted the recommendation to the Queen and it was approved immediately. This is the first VC ever awarded to a RAN man since forever. Onya Teddy, what a hero! Talking about heroes—this catalogue is full of them. Many new books make an appearance and many well known books make a re-appearance. The big project is the leather-bound SIMMO—50 only bound in leather with dust wrapper. Unfortunately for those who may have wanted one, they're SOLD OUT before we even get them! They will be signed and numbered. The SIMMO paper back has arrived!! Pre-ordered are on their way (signed on request) This will round off the SIMMO productions.
I will be able to move on to my next project which could be a biography of Peter Badcoe, VC, our first VC in Vietnam. I'm indebted to Laurie Sams for his research on my behalf on Badcoe. He's dug up a ton of stuff so far. Not bad for a bloke who lives in Thailand. He's also promised me he would get some pics where Badcoe was KIA in Vietnam and also photos of his grave in Terendak cemetery in Malaysia. (he rides through all of these places) I'm also writing my auto biography in slow time. (I spend an hour each day if I can). A long way to go on this one. It's great fun though, a lot of water has passed under the bridge as it were. I hope I can do it justice. We wait with bated breath for the report on alleged criminality by our SAS men in Afghanistan. It's quite disgraceful how SASR and its members have been treated in all this. The media have hung, drawn & quartered one of our most gallant soldiers over incidents that happened on the battlefield. Whatever happens, we can only hope justice is done not just seen to be done. We should never have allowed journalists to be embedded with our troops. We never allowed it in Vietnam but post-Vietnam we seem to have grown a crop of generals who would rather our soldiers show more touchy-feely sentiments than stick to their main role. Otherwise we may as well not be there in the first place.
Rant over!. The Premier of WA has to be congratulated for keeping our border secure in the face of slings & arrows from all directions in particular a certain large person from Qld. Keep it up Premier, we're on your side. This list is dedicated to ex and current serving soldiers who may not be traveling well.
Via con Dios M & J