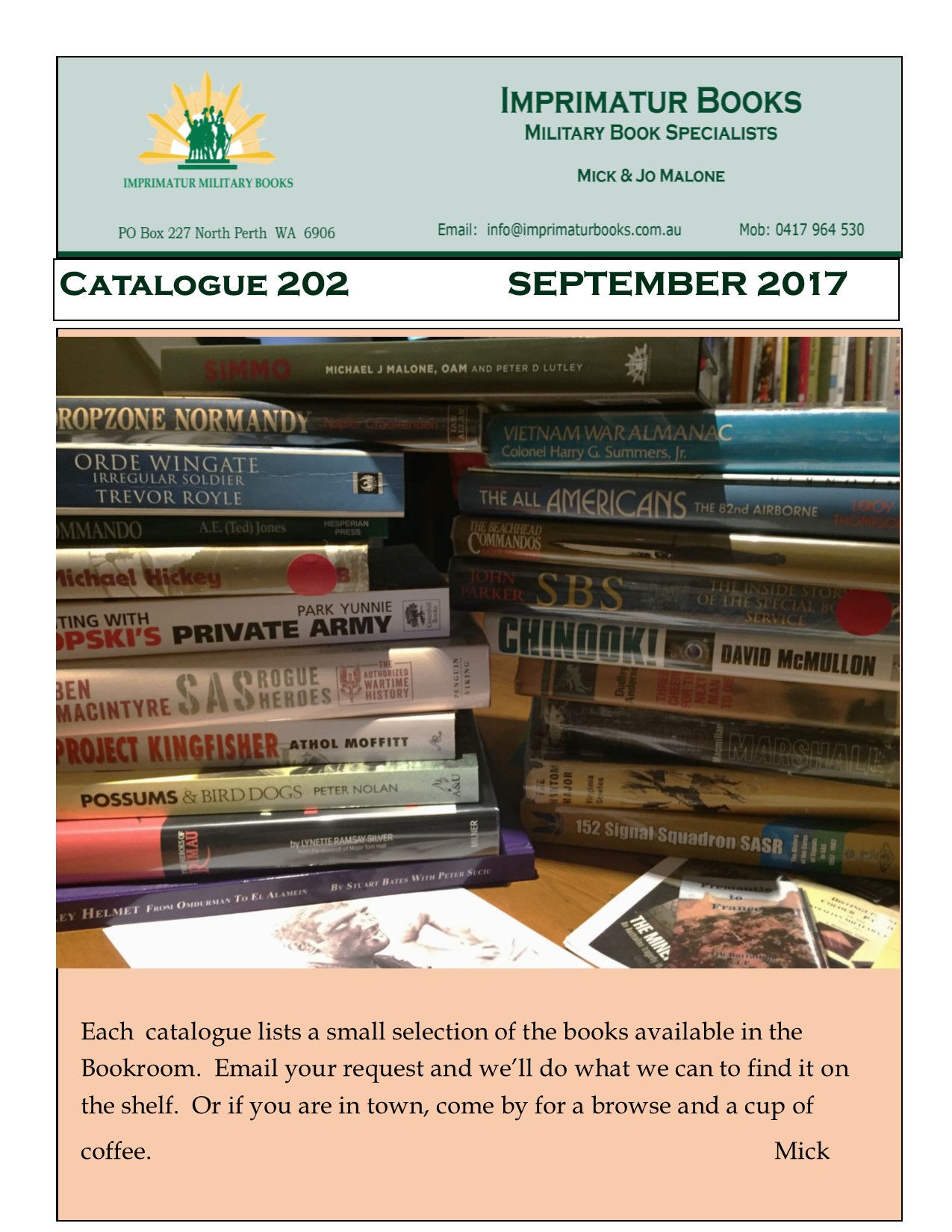 Imprimatur Books – still kicking in Catalogue 202
Posted On Sep 17, 2017 | American Civil War 1861-1865,Aviation,Espionage,Military Biography,Military General,Napoleonic,Naval,SIMMO,Special Forces and Airborne,The Great War 1914-1918,Vietnam,World War 2 1939 - 1945 | No Comments
At long last, Catalogue 202.  It has been a long time coming.
I apologise for the lack of catalogues issuing from this fair establishment but I've been banged up in Hollywood Hospital for these last 3 months with ENDOCARDITIS!!! It's a bug in the lining of the heart which has been very difficult to kill. After 95 odd days in hospital being drowned in anti-biotics, I'm now back at the coal face – relaxing. The only way to do a catalogue is by being relaxed and surrounded by the books on offer. Let's see what comes to pass over the next few weeks.
This list contain some very good titles as always. Good books are becoming difficult to find.  When the old collectors pass on their families don't seen to have any idea of what to do with Grandad's books. A lot of it ends up in the Save the Children sale (price between $2 and $4) or Vinnies or Sallies. Needless to say, the smarter ones ring me and I'm able to offer a realistic price allowing me to keep them in circulation. Many of the titles here have come through this process. The big worry for all book sellers is that it seems many people have dumped the idea of reading (or having) a book, they are more interested in the electronic format. And the amount of books converted into audio books grows exponentially. There is one title in this list which has been converted into a readable CD (SAS A Pictorial History by well…me! You can find it at #141). Kindle and various other devices may eventually make the book redundant. But not yet!! Many people still enjoy the smell of old books, the tactile feel etc. I think books will see me out.