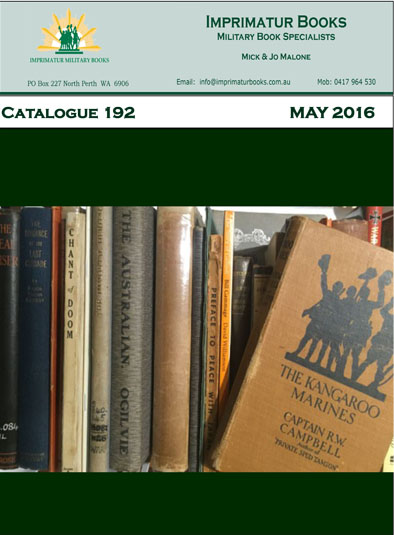 Catalogue #192 now online
Posted On May 10, 2016 | American Civil War 1861-1865,Aviation,Espionage,Military Biography,Military General,Modern Firsts,Napoleonic,Naval,SIMMO,Special Forces and Airborne,The Great War 1914-1918,Vietnam,World War 2 1939 - 1945 | No Comments
Catalogue #192 is now available for your interest. It has been great to spend some time in the Bookroom to put together this new catalogue for you.
There was a rush on SIMMO after the Radio National interview in April – a special thank you to everyone who has helped this project support veterans and their families by buying a copy of the book.  You will have a great read as well – win/win!
Whilst we still have copies of SIMMO available they are flying out the door after the nation wide exposure. Don't miss out.
We are investigating the possibility of publishing a limited (very) edition leather bound version for the really serious collector – email Mick to reserve a copy and we'll let you know when we go ahead, and the final cost.  This will be a rare and desirable addition to your collection.
Cheers
Mick & Jo